The Data Journalism Blog is a news site tackling innovative projects made with data, in the newsroom and elsewhere.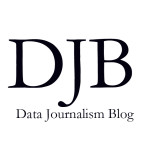 da•ta jour•nal•ism |ˈdatə; ˈdātə||ˈjərnlˌizəm|
Journalism which uses datasets as a basis for reporting. It is also sometimes called 'data-driven journalism'.
Since the Wikileaks scandals and the rise of "open knowledge", data journalism is often considered as an essential tool for the future of news and storytelling.
Whether you are a journalist, an editor, a designer, a programmer or simply a data geek, the Data Journalism Blog brings you the latest on data journalism with news, features, interviews, how-to guides and reviews tackling innovative projects made with data, in the newsroom and elsewhere.
The Data Journalism Blog is built for a global audience of journalists, designers, developers and other data enthusiasts. People who are interested in the emergence of open data, both experts and amateurs, and want to understand better how it could change the future of information. Or, people who really like fancy graphics and want to find out more about how they're done. Part of the content is very specific and would require knowledge about data journalism, other parts are very broad and could suit more novice readers. It's a good mix.
We will thrive to push innovation to the full and experiment new techniques for ourselves, team up with partners to create compelling and interactive storytelling projects as well as deliver news and insights from the industry here on the DJB. So sit back, let us know what you think and let's enjoy the journey. This is only the beginning.
It was created in April 2011 by Marianne Bouchart, data journalist and founder of HEI-DA.
The Data Journalism Blog is published by HEI-DA, a nonprofit organisation which promotes digital innovation, the future of data journalism and open data. We do web projects of public interest and partner with organisations worldwide to build impactful programmes and initiatives.
Get in touch. Tell us what you think.