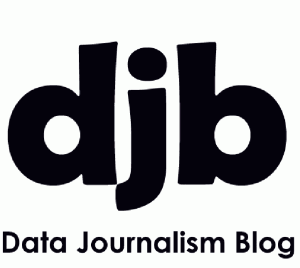 Hello DJB Community,
If you've noticed a lull in activity here at the Data Journalism Blog over the last couple of weeks, it's because the site has been undergoing a few changes. Marianne has got the DJB to where it is single-handedly but now that she has other commitments we (Neha-Tamara Patel and John Burn-Murdoch) will be taking over editorial responsibilities – don't worry, Marianne will be keeping an eye on our progress! (You can read her final post
here
)
We are aspiring data-journalists studying on City University's MA Interactive Journalism course, and along with our class-mates we aim to continue the DJB's peerless coverage of data-driven journalism.
As far as content is concerned we will be trying not to stray from the formula that has worked so well thus far, although we have plans for a couple of new additions. The two areas on which we aim to focus are highlighting the best data-visualisations on the web, and building a strong online community here at datajournalismblog.com.
Alongside these aims we will continue to showcase developments in the field of data journalism, be it through interviews with leading data journalists, guides to using software or reviews of new data-related tools and applications.
Another section will look at the life-cycle of a data-driven news story, as we bring you updates on a series of ongoing investigations into topics including public spending, education, health and crime statistics.
As always, we would love to hear what you think about our plans, and we welcome comments on any of the above as well as thoughts on the site in general!
John and Neha