TELLING STORIES WITH DATA: THE NEXT CHAPTER
GD Star Rating
loading...
GD Star Rating
loading...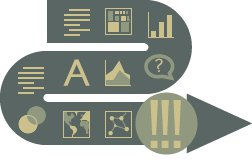 Telling Stories With Data – By Adam, Jessica, Joan, Karrie, and Nicholas
Sunday, October 23, 2011 in Providence, Rhode Island(at VisWeek 2011)
While visualization is an excellent tool for discovery and analysis, it is also a powerful medium for communication. The best information graphics do more than just present numbers: they tell a story, engage and convince their readers, invite them to make a personal connection to the data, and help them tell stories of their own.
This VisWeek 2011 workshop will examine the construction of narratives with visualization. We plan to draw participants with interests in visualization, social media, journalism, and storytellers.
Last year, at VisWeek 2010, the first workshop on 'Telling Stories with Data' took place in Salt Lake City.  This workshop brought together dozens of visualization researchers, journalists, humanities scholars, and tool builders to talk about how data has the potential to promote increasingly sophisticated and data-literate conversations to the world at large. [Read more…]
TELLING STORIES WITH DATA: THE NEXT CHAPTER

,