JOURNALISM.CO.UK – By Sarah Marshall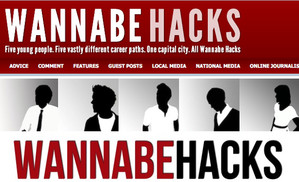 Ben Whitelaw and Nick Petrie have won £1,000 to launch a business to teach journalists skills in data journalism.
Whitelaw and Petrie, both part of the Wannabe Hacks site were today announced as the winners of the myNewsBizstudent journalism enterprise competition, sponsored by Kingston University.
A £500 prize was also awarded to five journalism students from Kingston University to launch Relish Magazine, a cooking magazine for men.
Whitelaw and Petrie's winning proposal is to launch the Visualist, to "provide journalists, both wannabes and old pros, within smaller media organisations with the skills needed to do data journalism". They plan to "teach journalists how to use relevant programs and tools and also provide additional support with collating data and producing visualisations before a given deadline".
Whitelaw and Petrie have both secured jobs – Whitelaw atGuardian Professional and Petrie at the Telegraph – but say their careers will not stop them from launching the business. [Read more…]